I've had the idea for these cards for a long time. (I may have seen it on a blog or on Pinterest, but I definitely don't know where it originally came from.) Last time I was a demonstrator (4+ years ago), I used to always get a Designer Series Paper sampler with each new catalog. (Another demonstrator would put this together.) This consists of a 2.5x3.5-inch piece of DSP in every single pattern available. It is super fun to be able to see all the paper in person, as they ALWAYS look better than in the catalog. However, with all of the retirements over the years, I now have about a 4-inch tall stack of these little DSP rectangles.
So, when I fall into a stamping lull, I try to pull these out and figure out what to make with them. (
This type of card
is one of my favorite layouts, and lends itself well to using these rectangles up, because you can get four 1-1/4" punches out of each piece.) The current
Simon Monday Challenge
was just the push I needed to make this card idea a reality! This week, the challenge is "Patchwork". I'm also entering this card into the Loves Rubber Stamps Blog Challenge #77 (
LRSBC77
) - the challenge is anything goes.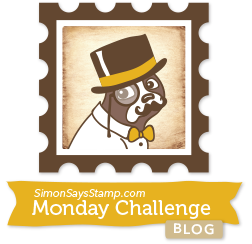 My mom is always asking me for more "all-occasion" cards. She likes blank cards, with no sentiments, because you can really use them for anything: thank you, sympathy, thinking of you, etc. So that's the idea with these cards. To make them, just punch out 12 squares (1-1/4") from ~6 different patterns of DSP in a pack. Arrange them in a pleasing pattern. Then, using a glue stick, adhere them to a piece of cardstock or scrap paper. (You could also use SNAIL or another adhesive. Cardstock is better than computer paper because the DSP is pretty thin, and you don't want your Top Note to be flimsy.) Run through the Big Shot to create the Top Note shape, wrap some ribbon around it, and voila!
I wanted to use the 1/4" Stitched Grosgrain Ribbon, so I chose DSP that matched the colors I have. I also tried something different with half of the cards. After I ran it through the Big Shot to get the Top Note shape, I ran it through the Big Shot again in one of the embossing folders! I REALLY like these better. Don't you think it makes them look like an actual quilt??

The only disappointing part about these cards is that I don't have any DSP pieces large enough to make envelopes or even envelope liners! Boooo. :(


Paper: Berry Bliss DSP, Urban Garden DSP, Raspberry Tart DSP, Bella Birds DSP, Purely Pomegranate CS, Brocade Blue CS, Close to Cocoa CS, Rose Red CS, Crumb Cake CS
Tools: Big Shot, Top Note Bigz Die, Petals-a-Plenty Embossing Folder, Square Lattice Embossing Folder, 1-1/4" Square Punch
Accessories: 1/4" Stitched Grosgrain Ribbon (Basic Gray, Pretty in Pink, Whisper White), Glue Dots (to hold the ribbon in place)

italics = retired product